>>where to buy: a select list of web sites where you can find wonderful ingredients
E-mail to the editor

Meet the editor
a new feature . . .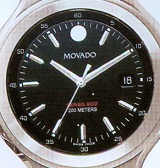 E-mail to the editor

Meet the editor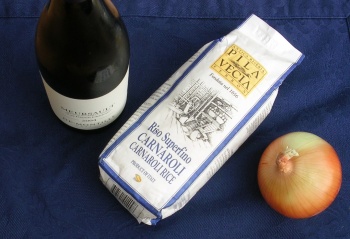 Risotto is one of the highlights and special delights of Italian cooking. It is a very basic dish, which can be elevated to ambrosia by the combination of the perfectly done rice and a wonderful sauce. The secret is that the starch in a proper Italian rice, such as arborio, is transformed by the proper addition of stock and wine, until it becomes a creamy sauce that itself clings to the still-firm grains. Truly an incredible culinary miracle.
There are a couple of risotto basics: there is really only one way to cook risotto, and that is the right way. No shortcuts. It takes time: generally twenty to thirty minutes at the stove. It requires frequent stirring. It requires pretty constant attention. And you need to develop a taste-feel for doneness, for deciding, by tasting, when in the cooking process you get the combination of the firmness of the kernel you desire, combined with the level of creaminess that you want. Not that hard, and fun and exciting to do.
One thing is a given: cooking risotto is worth every second of the effort!
You must use the proper rice, and really only imported Italian rice is proper. There are three types of imported Italian rice that can be used:
Arborio: the most widely available and the most widely used in the risotto country of Lombardy and environs. It is a plump, large-grained variety, that produces grains of a large size and with excellent clinging capabilities. This is the desired choice for most risottos that need a solid, compact (non-runny) texture.
Canaroli: a somewhat hard-to-find variety that is generally the rice of choice (if one finds it). It is like arborio in its size, and cooks the same way, but has a slightly superior flavor and a perfect consistency.
Vialone Nano: a slightly smaller grain rice, that is most common in the Veneto. It produces a softer, looser (less compact) risotto, more runny if you may, which seems to be the favorite style of the Venetians. It is also more firm to the bite and it cooks more rapidly.
the best how-to step-by-step instructions for risotto anywhere!
Recipes for finishing and saucing:
CLICK HERE TO GO TO THE
COMPLETE LIST
OF ALL THE MANY
WONDERFUL
RISOTTO RECIPES
WE HAVE FOR
YOU
these are a few favorites:
Milanese (2)
(pancetta and
saffron)
risotto with sausage
the ultimate fall mushroom risotto
with peas and prosciutto (Venetian)
risotto of the spring with fresh corn and peas
risotto with lemon and parmesan