Orecchiette (little ears) are the basic pasta dish of the Puglia region. And orchiette with some form of broccoli is, rightfully, their most famous dish. It is another excellent and satisfying combination of a pasta with a vegetable.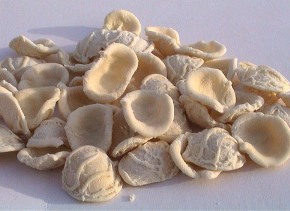 You can buy or make your own orecchiette. For home-made: see how to make your own egg pasta. Rather than all all-purpose flour, use half white flour and half wheat flour or semolina. When you have come to the step of having a ball of well-kneaded dough, divide the dough into four pieces. Roll each of the pieces into a sausage shape, about a half-inch in diameter. Just slice this sausage into one-quarter to one-half inch slices. You now have a lot of little round buttons, or coins. Press your thumb gently into the center of each of these little coins. Wiggle your thumb a little to get a really good impression into the coin.
>>for a similar pasta combination, see orchiette con rapa.
for the sauce:
four garlic cloves, peeled and minced
six anchovy filets (can be optional)
one-quarter cup olive oil
one and one-half pounds broccoli
pinch of red pepper flakes
salt and pepper
two tablespoons more olive oil
for the pasta:
one pound Italian-made orecchiette, preferably made with semolina
Peel the stems of the broccoli. Do not use any tough parts of the stem. Cut the flowerlets off the stems. Cut the stems into two-inch pieces.
Get five quarts of water to a raging boil. Add the broccoli pieces. Boil until just barely tender, about 5-7 minutes. Take the broccoli pieces out of the water with a slotted spoon and set the broccoli aside.
Put the olive oil into a saute pan, add the garlic, over medium heat until it just starts to sizzle. Add the pinch of red pepper flakes, a quarter teaspoon of salt, and several grinds of the pepper mill, Then add the anchovy fillets (don't let the pan get too hot). Cook and stir until the anchovies are dissolved.
Get those five quarts of water back up to a raging boil. Add two tablespoons of salt. Add the orecchiette. Cook until al dente. Then drain well.
Add the pasta to the oil. Add the broccoli. Add the two tablespoons of olive oil. Mix well. Taste and adjust for salt and pepper. Serve.