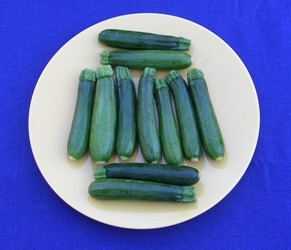 The zucchini, cut into strips, melds perfectly into the fusilli, making the kind of special sauce that only zucchini can do. The pine nuts provide the counterpoint.

for the sauce:
three tablespoons extra virgin olive oil
three tablespoons butter
one quarter cup pine nuts
one and one-half pounds fresh zucchini
three cloves garlic, peeled and diced
one small onion, diced
one-quarter cup chopped basil
salt and freshly ground pepper
one half cup freshly grated parmesan
for the pasta:
Soak the zucchini in cold water for fifteen minutes. Dry, cut off the ends. Then cut the zucchini into two and a half to three inch long pieces. Then cut each piece into matchsticks about a quarter inch thick.
Over medium heat, toast the pine nuts. Watch carefully, and stir, until they just get golden brown, just a couple of minutes. Do not let them get away from you. Set aside
Add the three tablespoons of oil to the saute pan, over medium heat. Add the garlic and add the onion. Cook until the onion is translucent. Add the zucchini. Add the chopped basil. Add a half teaspoon of salt and some freshly ground pepper. Cook until the zucchini starts to get a little tender. Do not let it get mushy. Add the pine nuts. Stir and mix well.
Meanwhile bring 4-5 quarts of water to a boil. Add two tablespoons of salt. Drop in the pasta and stir. Continue cooking until al dente. Reserve some of the pasta cooking liquid, drain.
Combine the pasta with the sauce over a medium heat. Add the parmesan and the butter. Stir thoroughly. If it is not moist enough add a tablespoon or so of the reserved liquid. Taste for salt and pepper.
Cover the pan and turn up the heat to medium high for a minute: to get the pasta really hot. Serve with some extra freshly grated parmesan.