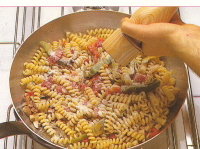 Here is an excellent all-vegetable presentation, combining well a variety of flavors and textures and colors
>>note: this recipe calls for only one-half pound of fusilli, and therefore one small to medium artichoke. It serves two as a main course. The recipe can be doubled, of course.
for the sauce:
one medium artichoke
one half a red pepper
three ounces of white mushrooms
one-half cup of olive oil
two tablespoons of freshly grated parmesan
salt and pepper
for the pasta:
one half pound freshly made fusilli
Wash, clean, and de-stem the mushrooms. Slice them in quarter-inch wide slices.
Prepare the artichoke. (Note that a small and medium artichoke works much better than one of the giant Castroville artichokes we frequently see.) Tear off the external leaves of the artichoke. Trim the stem to a half-inch length. Cut the artichoke in half. Remove the interior choke. Then cut the remainder of the artichoke, that you will be using, into thin (quarter inch) slices.
Put these pieces of artichoke into a pot of boiling water, which has been salted. Cook for three minutes. Then add the sliced mushrooms and cook the combined pieces for another three minutes. Drain and set aside.
Scorch the pepper over a flame. (use a fork if you are worried about burning yourself). Peel the outer skin of this scorched pepper, cut it into long slices, about a quarter inch, and then cut the slices further into half inch lengths.
In a large saute pan, add one quarter cup of oil. Add the pepper and saute for two minutes. Add a half teaspoon of salt and a few grinds of black pepper. Add the artichoke and mushroom pieces and cook another two minutes.
In five quarts of boiling hot water, add two tablespoons of salt, and then the fusilli. Cook until al dente. Drain well.
Add the fusilli to the saute pan with the vegetables, add the remaining quarter cup of oil, adjust for salt and pepper. Mix thoroughly and serve.