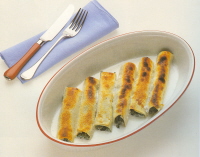 Cannelloni, simply, are elegant jewels. Done well they are as tasty as any food presentation can be. They make a wonderful presentation: a source of pride at the dinner table. It is an easy dish to prepare, and obviously worth the effort.
The key to success is the proper order of preparation. They can be assembled a few hours before they are needed, and then covered with wax paper and refrigerated. When ready, cover the tops with sauce and bake.
They require fresh pasta, ideally, and generally a béchamel sauce in the process. Béchamel sauce, useful in many facets of Italian cooking, is not a sauce of value for itself, like pesto or ragu. Rather, its value comes primarily in keeping the pasta preparation moist. It also assists in the binding. In the "how to prepare" section, you will note that there are a couple of ways of rolling up the cannelloni. One way is to put the filling along the edge of the pasta sheet and then roll it up. Marcella Hazan claims, quite rightly, that the cannelloni are enhanced immeasurably, if you coat the pasta almost completely with the filling, and roll it up like a jelly roll. Try both ways out if you wish, but whichever, you will be proud and pleased with cannelloni as your dinner choice.
Here (at the right) are the links to the instructions on how to prepare cannelloni, plus several fillings options. Bolognese is included because it is always an excellent choice.
start here . . .
how to make cannelloni
select a filling:
veal and sausage filling (our favorite)