E-mail to the editor

Meet the editor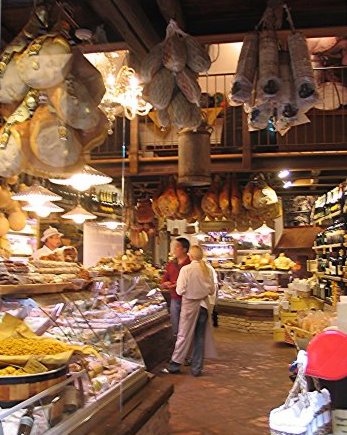 a Bolognese meat market . . .

Here is the classic recipe for the elegant, flavorful Bolognese sauce (ragu), ideal for tagliatelle, but equally wonderful with fettuccine, spooned over cheese ravioli, or used as the basis for lasagne.

(if making lasagne, go to how to make lasagne for the details of how to incorporate this ragu into the lasagne noodles).

Musts: ragu is about the meat, not the tomatoes and other ingredients. It must get a long, long simmer. The flavor should be complex, with everything in balance. It is simple to do, but the simmering can not be hurried.

for the sauce:
4 tablespoons butter
4 tablespoons olive oil
five cloves garlic, peeled and dice
one and one-half medium finely diced onion
two stalks finely diced celery
two medium size finely diced carrots
one and one-half pound ground meat: 1/2 lb. ground veal; 1/2 lb. ground chuck, 1/2 lb. ground pork
two ounces sweet Italian sausage, removed from case, chopped
two ounces finely chopped pancetta (optional)
1 1/8 cup whole milk
1 1/8 cup white wine (or a Chianti)
one tablespoon tomato paste
one bay leaf
28 oz. can imported Italian whole, peeled tomatoes, coarsely chopped, with their juices
salt and pepper
one-quarter cup freshly grated parmesan
Heat the butter and olive oil in a heavy, deep saucepan or Dutch oven over medium heat. Add the garlic and then, a minute later, the onion, carrot and celery and cook for five minutes, until soft (do not brown).
Add the chopped meat and 1/2 teaspoon salt. Here is a key action: crumble the meat with the edge of a wooden spoon, working continuously on the "crumble" so there are no clumps whatsoever, just tiny pieces of the meat. The meat should just lose its raw color, about 4 minutes.
Add the wine and cook several minutes, until the wine has lost its alcohol. Add the milk and continue to cook until the milk has evaporated, about10 or so minutes. Only clear fat should remain.
Add the tomato paste, bay leaf, and the tomatoes and their juices, stirring and breaking up the chunks. Bring the sauce to a simmer -- just barely a simmer. Cook, uncovered about three hours. Adjust for taste. Add the parmesan and stir.
Ready for combining with your favorite pasta.