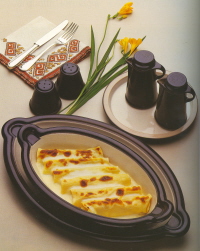 Here is a basic, but very tasty preparation for cannelloni whose simplicity of preparation is multiplied many-fold in its elegant, flavorful final results.
for the filling:
eight ounces of fresh ricotta
one quarter cup of grated parmesan
four ounces of prosciutto
salt and pepper
plus:
Cut the prosciutto into small strips, approximately an eighth inch wide by a half-inch long. In one tablespoon of butter, sautee lightly until it loses its raw color. Chop it coarsley.
Prepare a half portion of the béchamel.
In a mixing bowl, combine the ricotta, the parmesan and the prosciutto, and stir and mix them very thoroughly. Add salt and pepper to taste. This is your filling, ready to go.
See how to make cannelloni. Butter the bottom of the dish well, add two tablespoons béchamel. Put two tablespoons of the filling in each square 5" x 5" wrapper of pasta. Roll up. Put in baking dish seamed side up.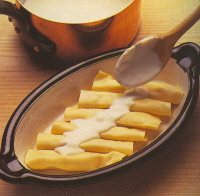 Use all the filling; or do all the cannelloni you need to do to fill the baking dish. Spoon the remaining bechamel over the filled cannelloni in the baking dish.
Cover loosely with foil, and bake at 375 degrees for twenty minutes. The cannelloni should start to have a brownish crust on top.
I