>>where to buy: a select list of web sites where you can find wonderful ingredients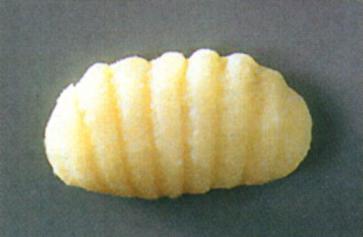 Gnocchi are small dumplings, feathery light and wonderfully constructed to hold the sauce successfully. Gnocchi are basic presentations on the menus of restaurants in central and northern Italy, and in Italian restaurants around the world.
There are several subsets: potato gnocchi without egg, potato gnocchi with egg (alla Parigina), gnocchi made from semolina (gnocchi alla Romana), and gnudi, which are just balls of soft ricotta rolled in semolina flour.
Gnocchi can be made straight (white flour) or green, with spinach, which is common, or sometimes with other bases such as tomato or mushroom.
The key is to make the gnocchi as light and feathery as possible. With a little practice, and the benefit of this excellent instruction, we think the process is easily mastered, and certainly worth the effort!
Andiamo . . .
the how to's . . .
how to make gnocchi di patate (potatoes)
two special sauce presentations
gnocchi in a wild mushroom sauce
in a pork and wild mushroom ragu
other sauces:
tomato (fresh)