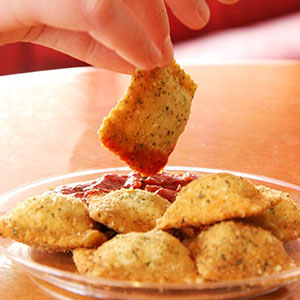 This is a St. Louis favorite. and tradition -- a staple at home or restaurant especially in the St. Louis Italian section "The Hill." Normally we do not have recipes with too much store bought ingredients, but this seems to work best -- most of the recipes we tried all used non-home-made.

Obviously, however, by going to the ravioli section and make your own ravioli (see ravioli) -- a simple cheese filling would work fine -- and making your own tomato sauce -- spicy preferred -- you have a proper home-made appetizer.

Herewith, with store-bought.

ingredients:
twenty-four small ravioli, fresh or frozen, cheese or meat-filled
one cup whole milk
two cups breadcrumbs
one teaspoon rosemary chopped fine
two teaspoons parsley chopped fine
salt and freshly ground pepper
one-half cup parmesan cheese
vegetable oil for frying
couple of cups of marinara sauce for dipping
Whisk the eggs and milk in one bowl. Mix the bread crumbs, parsley, rosemary and some salt and pepper in another.
Heat two inches of vegetable oil in a large frying pan until the temperature hits 325.
When the oil is hot dredge the ravioli: dip the ravioli in the milk, coating completely; shake off excess; dip in the bread crumbs to coat thoroughly; shake off excess. Place on a baking sheet.
Working in batches, fry the ravioli, turning occasionally, until they are golden brown. Using a slotted spoon transfer them to a plate with paper towels, to drain. Sprinkle the ravioli with the parmesan.
Serve with the warmed marinara sauce for dipping.