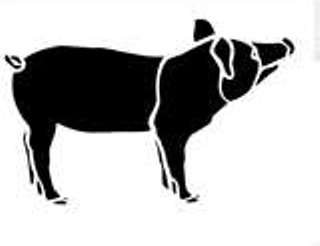 All of us totally dedicated pork lovers know that we can't get along for any period of time without a good pork fix. Here is a ragu that we use when we want hearty meat and pasta and are ready for something other than a classic Bolognese.
An added attraction to this ragu is the extra spiciness. It works perfectly with pinci (the home-made non-egg noodle of Montalcino and Pienza), pappardelle, the wide egg noodles, or penne, or even fettuccine.
for the sauce:
three tablespoons olive oil
four ounces of pancetta, chopped
one pound pork shoulder, or country style pork ribs, cut into half inch cubes
one-half pound Italian sausage: remove casings and roughly chop
one large onion, finely chopped
one medium carrot, peeled and finely chopped
one celery stalk, finely chopped
four garlic cloves, peeled and finely chopped
five sprigs of fresh thyme
two bay leaves
one-half teaspoon red pepper flakes
one-quarter cup chopped basil (optional)
one and one-half cups red wine
one 28-ounce can peeled tomatoes (San Marzano)
one tablespoon tomato paste
one-half teaspoon red pepper flakes
two sprigs oregano
one sprig rosemary
two cups beef broth
salt and freshly ground pepper
one half cup freshly grated parmesan
for the pasta:
one pound of pinci, pappardelle, fettuccine or penne
Note: if you are lucky to have truly ripe and tasty plum tomatoes or cherry tomatoes, dice them and use two cups of them instead of the canned imported variety.
Put two tablespoons of the olive oil in a sauté pan over medium heat. Add the pancetta and saute until brown. Remove with slotted spoon and set aside. Add the pork; sprinkle with salt and pepper; cook until brown. If pan is small, brown in two batched. Remove and set aside.
Add the sausage and brown the meat, cooking it until it is brown all over. Throughout the browning, constantly work the chopped meat with a wooden spoon to break it up as much as possible (in fact make sure it is truly all broken up).
Remove the sausage and set it aside. Drain the fat, most of it anyway (leaving all the good, brown bits) from the pan.
Add the third tablespoon of olive oil. Add the onion and cook until golden, about four minutes. Add the garlic and the red pepper flakes, then a minute later add the celery and carrots. Cook another three minutes until the carrot starts to get soft.
Have the heat high, then add the wine, to deglaze the pan. Cook for about two minutes until the alcohol is dissipated and the wine reduced by about half.
Add the tomato paste and stir. Add all the browned meat. Add the bay leaf, oregano, thyme and rosemary. Stir. Add the tomatoes, and then add the beef broth. Stir. Bring to boil and then cover and lower to a simmer.
Note: you can reduce the time involved in making this sauce by reducing the amount of beef broth added. By cutting the broth to one cup, you will get a sauce of the right consistency in about thirty to forty minutes.
We love the long simmer, since it isn't any work anyway and the kitchen smells wonderfully for a long time. We put the cover slightly askew, and simmer away, maybe several hours, to get a sauce with a great consistency: moist with just enough liquid to meld with the pasta.
When the sauce is done remove from heat, discard the bay leaf and sprigs. Add several grinds of pepper and a half teaspoon of salt. Stir, taste, and adjust.
Meanwhile bring 4-5 quarts of water to a boil. Add two tablespoons of salt. Drop in the pasta and stir. Continue cooking until al dente. If using pinci, they seem to take at least twenty minutes. Reserve a cup of pasta water and drain.
Re-heat the sauce, add the pasta, and stir. If not moist enough, add the reserved water as needed. We find that by covering the pasta with its sauce, turning the heat up to high, for about two minutes, we guarantee a truly hot and steaming presentation, with the pasta staying hot longer.
Serve with ample parmesan (and more on the side) plus some chopped parsley.
The best pork ragu ever, right?