This delightfully simple but wonderful recipe is adapted from Lidia's Family Table, the cook book by the TV star Lidia Bastianich (see Library).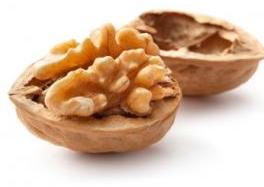 The evening in early September was one of those that we can get -- living so close to the Pacific coast -- cold and foggy. So rather than a typical sunny fall pasta, we did this walnut based recipe from Lidia which did a great job of taking the chill off the evening and warming our hearts and taste buds.

for the sauce:
12-16 fresh sage leaves
eight tablespoons butter (a quarter pound)
one cup fairly finely chopped walnuts
one-quarter cup chicken broth
one quarter cup white wine
one cup freshly grated parmesan
for the pasta:
one pound spaghetti (a grain pasta is good here)
Cut the pancetta into small strips: thin and about a half-inch long.
Put seven tablespoons of the butter in a saute pan over medium heat and when melted add the sage leaves. Add the walnuts and stir, cooking until the walnuts start to turn a light brown. Add the chicken broth, stir and continue to cook a minute. With the heat on high add the white wine and let cook a minute as the alcohol evaporates.
In five quarts of water at a raging boil, add two teaspoons of salt, and the spaghetti. Cook until al dente. Reserve one cup of liquid. Drain.
Add the spaghetti to the heated sauce; stir; add the last butter and stir; add reserved liquid as needed and stir. Cover, turn up the heat to high, and cook for a minute to get the pasta steaming hot.

Add the parmesan and stir and serve.