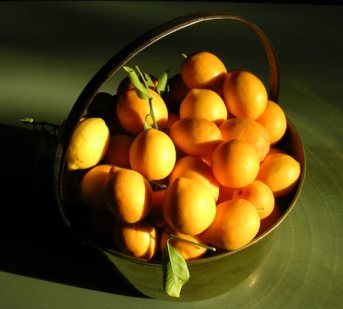 This is a marvelously simple and elegant combination. Ready in minutes. Because we have access to Meyer's lemons, we frequently use them in place of regular lemons: gives a slightly different flavor.

Note: if you don't have a neat lemon-zester -- a small version of a grater -- it would be wise, and worth it for your fingertips, to get one.

If you really love a lemon flavor, increase by a little the amount of zest and lemon juice in the recipe below.

for the sauce:
one-quarter cup olive oil
four garlic cloves, peeled and finely chopped
one-quarter cup cream
finely grated zest from a lemon

four

tablespoons fresh lemon juice
three tablespoons chopped parsley plus several sprigs
two or three pinches of red pepper flakes (to taste)
salt and freshly ground pepper
one quarter cup freshly grated parmesan
for the pasta:
Bring 4-5 quarts of cold water to a heavy boil. Add a couple tablespoons of salt. Add the pasta, stirring it well to get it separated and mixed. Cook to al dente. Reserve a cup of the cooking liquid. Then drain.
While the pasta is cooking, put the olive oil and the garlic in a sauté pan (big enough to hold the pasta) over medium heat. Cook until it sizzles, a couple of minutes. Add the red pepper flakes, and a teaspoon of salt, plus several grinds of the pepper mill. Add the lemon zest and juice. Stir. Add the cream and a half cup of reserved cooking liquid. Bring it to a simmer. Use your judgment here: there should be enough liquidity to coat the pasta. Add more water if needed: the sauce should not be too dry. On the other hand, it should not be swimming. If it is dry, add a little more of the reserved liquid.
Add the pasta to the sauce. Stir very well. Add the parsley and the parmesan and stir again. Check for salt and pepper. Cover the pan, turn up the heat to high and steam hot for one minute! Serve.