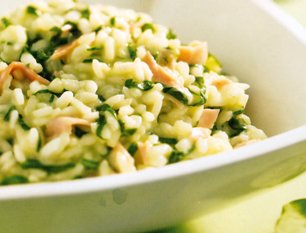 Here is a very light but flavorful risotto, that results in a slightly different texture. It uses less risotto than usual, but still ample for four, and is best done allowing the finish to be quite moist: not a soup but definitely moist. The ratio of ingredients to risotto is high, but because it is so delicate, it all works perfectly.
We recently used some Black Forest ham we got at Whole Foods -- it was absolutely perfect.
Ingredients:
one and one-half cups of Arborio rice (or the two other approved varieties)
four cups of chicken stock
one small onion, finely diced
one tablespoon olive oil
three tablespoons butter
two-thirds cup dry white wine
four ounces of cooked ham, in slices
five cups fresh baby spinach
one-quarter cup heavy cream
three-quarter cup freshly grated parmesan cheese
salt and freshly ground pepper
to cook: (a more detailed and elaborate description of the risotto cooking technique can be found at how to cook risotto).
Slice the washed spinach into shreds. Likewise, cut the ham into thin strips.
Bring the stock to a slow simmer in a pan next to the risotto pan. In a thick-bottomed pan (the risotto pan), over medium-high heat: add the olive oil and two tablespoons of butter. Add the onion. Cook until slightly soft but not brown. Add the rice and stir until each grain is coated with the oil. Add the white wine. Cook and stir until it is absorbed by the rice, about two minutes. Now add the hot stock, ladle by ladle, only adding another ladle when the previous ladle of liquid has been absorbed, stirring almost all of the time.
At about twenty minutes, when the rice is almost perfect, add the spinach and ham and some turns of freshly ground pepper. Stir. The rice should be quite creamy and just the right al dente.
Take off the heat. Stir in the parmesan, and the remaining butter and the cream. Now taste for salt and add a half teaspoon if needed. Add the parmesan. Stir again. We let it sit, covered, for a minute or two. Serve.