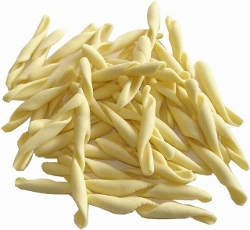 This is a hearty pasta for penne or other tubular pastas. One evening, however, we inexplicitly found we were out of penne and we substituted the famous "priest chokers" -- strozzapreti, pictured above. We liked this combo even better! The sauce has a wonderful touch of spice and a deep, red wine flavor. We also did it one night with spinach orecchiette. Also wonderful. Let's just say this sauce works well with all kinds of "shapes". Another key: the tomato paste. This gives the sauce the extra lift.

U

se the best tomato paste you can find.
for the sauce:
one-quarter cu

p olive oil
one-half pound Italian sweet sausage, casings removed and coarsely chopped
four cloves garlic, peeled and finely chopped
one pinch of red pepper flakes
one cup, onion, finely chopped
three tablespoons of tomato paste
one half cup red wine
one cup chicken broth
one tablespoon chopped fresh sage
salt and freshly ground pepper
two tablespoons butter
one half cup freshly grated Parmesan
three tablespoons chopped fresh parsley
for the pasta:
one pound of penne or a similar tubular pasta
Remove the casings from the sausage and chop roughly as well as you can.
Heat the olive oil over medium heat in a saute pan. Add the garlic. Cook for fifteen seconds. Add the onion. Two minutes later add the chopped sausage. Cook for several minutes, continually beating the sausage with a wooden spoon to break it up into as small pieces as possible. Add the sage, the red pepper flakes and a half teaspoon of salt and some freshly ground pepper. Mix. Continue the cooking of the sausage until it is medium brown, about six or seven minutes, regularly beating with the wooden spoon to break up the pieces.
Add the wine. Cook for two minutes to dissipate the alcohol. Add the chicken broth and tomato pasta. Stir well.
Bring to a boil, and simmer for two minutes or so, until the sauce is thickened enough. Do not over-simmer. Taste for salt and pepper.
Meanwhile bring 4-5 quarts of water to a boil. Add two tablespoons of salt. Drop in the pasta and stir. Continue cooking until al dente. Reserve one cup of the pasta liquid. Drain.
Put the drained pasta into the saute pan. Stir. Add the butter and stir. Add enough of the reserved liquid to keep the sauce moist if needed. Cover and increase the heat; steam for one minute to get the pasta really hot. Then add the parmesan and stir.
Serve in heated bowls; top with parsley. Parmesan available on the side.