Another option for the 24/7 brussels sprouts lovers. And add in the 24/7 gorgonzola lovers. A four-star!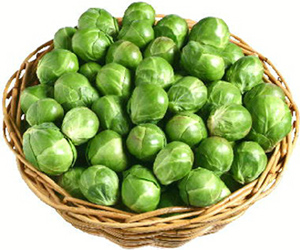 for the sauce:
two tablespoons olive oil
one clove garlic, peeled and finely chopped
one medium onion, diced
one jalepeno pepper, minced, seeds removed
one pound brussels sprouts
one tablespoon chopped thyme
salt and pepper
four ounces Gorgonzola cheese, crumbled
for the pasta:
one pound of penne or a similar tubular pasta
Wash the brussels sprouts. Trim the stems. Cut into thin slices. Leaves will fall off as you do this. Save the leaves and use them.
Put the olive oil in a saute pan over medium heat. Add the garlic. After ten seconds add the onion. Two minutes later add the sliced brussels sprouts and leaves, the jalepeno, the thyme, a teaspoon of salt and some freshly ground pepper. Stir. Cover and cook over medium heat, stirring now and then, until the sprouts are tender. About four minutes.
Meanwhile bring 4-5 quarts of water to a boil. Add two tablespoons of salt. Drop in the pasta and stir. Continue cooking until al dente. Reserve a cup of the pasta water. Drain.
Re-heat the sauce. Add the penne to the sauce, stir. Taste for salt and pepper. If too dry, add some of the reserved liquid.
Cover, turn heat up high and steam for one minute. Serve in heated bowls and top with the gorgonzola.