>>where to buy: a select list of web sites where you can find wonderful ingredients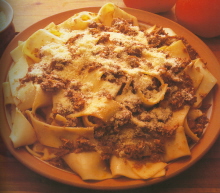 Pappardelle ("gulp down pasta") have always been considered a special treat for many pasta lovers. They are a fresh egg cut in wide ribbons -- one-half to one inch wide, and about six inches long.
One finds pappardelle mostly in Tuscany and in Piedmont. They meld beautifully with game and heavier meat ragus. Wild boar, hare and rabbit are most frequently the sauce of choice in Tuscany. Lamb and meat ragus are found often in the north. Wonderful fall or winter comfort treat -- hearty one-dish meals. They are worthy of a special section in the egg pasta category.
pappardelle with red wine and meat ragu
pappardelle with sugo di cinghiale (wild boar)
pappardelle with peppers and sausage
papardelle with brussel sprouts and ham
pappardelle with bell peppers and pancetta
also: