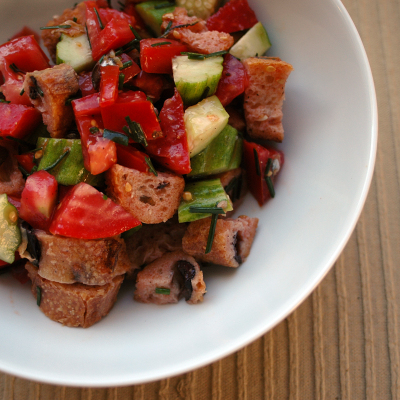 In the very early seventies, I had this dish for the first time. The occasion was a lunch at Numero Uno Rossi in Florence. My hostess was Thekla Clark, a friend from the art publishing world, and her friend, William Weaver, who was already well-known as a major translator and was about to become super famous with his work with Umberto Ecco. The starter was panzanella, and I loved it.
Since that time I have tried to find a simple recipe that would duplicate that experience. Marcella's in The Classic Italian Cook Book, which she included for my benefit, was OK. (the recipe does not show up in the revision, "Essentials".)

In a recent edition of Cook's Illustrated, which frequently does a great job of getting at the heart of some Italian classics, published a recipe which I think really works. Here, adapted a little, is it:
ingredients:
six cups old Italian or French (rustic) bread, roughly torn into about one-inch pieces
one-half cup extra virgin olive oil
one pound tomatoes, cut into about one-inch pieces
two tablespoons white wine or champagne vinegar
one cucumber, peeled and cut into half-inch squares
one half red onion; cut in half again and very thinly sliced
one-quarter cup shredded, or chopped, fresh basil
salt and freshly ground pepper
Heat the oven to 400 degrees, Toss the bread pieces with two tablespoons of the olive oil and one-quarter teaspoon salt. Stir around to mix well and then lay the bread in a single layer on a bread (or cookie) sheet and put in oven. Toast until just starting to get golden. About fifteen minutes. During the toasting shake the bread crumbs around every now and then. Set aside to cool.
Toss the tomatoes with one-half teaspoon salt in a large bowl. In another bowl, whisk the remaining six tablespoons of olive oil, the vinegar and add several grinds of black pepper.
Add this to the bowl with the tomatoes and stir. Add the cucumber, sliced red onion, toasted bread pieces and the basil, and toss to thoroughly mix and coat. Taste for salt and pepper.