Here is an orecchiette (little ears) pasta dish from Campania that is quick to do and combines the basic delights and tastes of this region.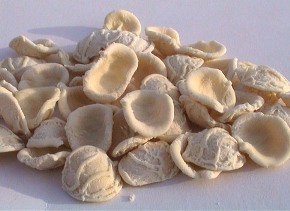 You can buy or make your own orecchiette. For home-made: see how to make your own egg pasta. Rather than all all-purpose flour, use half white flour and half wheat flour or semolina. When you have come to the step of having a ball of well-kneaded dough, divide the dough into four pieces. Roll each of the pieces into a sausage shape, about a half-inch in diameter. Just slice this sausage into one-quarter to one-half inch slices. You now have a lot of little round buttons, or coins. Press your thumb gently into the center of each of these little coins. Wiggle your thumb a little to get a really good impression into the coin.
>>for a classic orecchiette recipe, with cauliflower: see orecchiette with cauliflower.
for the sauce:
two

garlic cloves, peeled and minced
two tablespoons butter
one tablespoon olive oil
four ounces of pancetta
one cup frozen peas
one-half teaspoon red pepper flakes
one-half cup freshly grated Parmesan
salt and pepper
two tablespoons chopped chive
two tablespoons chopped parsley
two tablespoons chopped mint or basil
for the pasta:
one pound Italian-made orecchiette, preferably made with semolina
Thaw the frozen peas. if using fresh, parboil them for a minute.
Put the butter and olive oil into a saute pan. Add the pancetta and cook over a medium heat until it is just starting to turn brown, about four minutes.
Add the garlic and the red pepper flakes and cook for a minute. Add the peas, a teaspoon of salt and some freshly ground pepper, and stir gently to coat.
Get five quarts of water up to a raging boil. Add two tablespoons of salt. Add the orecchiette. Cook until al dente. Reserve a cup of the pasta liquid and then drain.
Add the pasta to the heated sauce. Mix well. If it needs a touch more liquid to coat, use some of the reserved pasta water. Add the cheese and the herbs and stir.Taste and adjust for salt and pepper. Serve in heated bowls with the more parmesan.