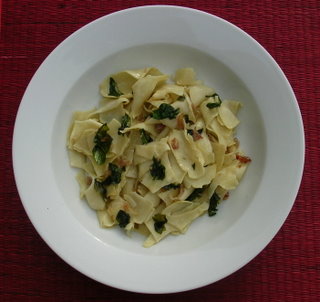 Here is a recipe I have been looking for: a recipe for those left over pieces of fresh pasta. These are the pieces left over when one is cutting out ravioli or tortellini or whatever. Odds and ends of various shapes of fresh pasta. Throw them away? Never!

Most often these maltagliati are used in soups, which makes good sense. Sometimes the maltagliati are actually specifically cut: in shapes such as triangles or diamonds. But for us maltagliati remain just that: the cut scraps of fresh egg pasta left over from some other project like ravioli.

And this recipe is simple and easy to do. Arugula (rocket) is the ingredient of choice, but we found that spinach, or better yet in the winter, radicchio, also works.

for the sauce:
one-quarter cup extra virgin olive oil
two cloves of garlic, peeled and finely chopped
one medium onion
four ounces of pancetta
three cups of arugula, roughly chopped
salt and pepper
one-quarter cup pecorino
for the pasta:
four cups of maltagliati, odd scraps of fresh egg pasta
If the maltagliati, for some reason, are big pieces, just roughly chop them into pieces no bigger than a half inch.
Chop the pancetta into quarter-inch squares.
In a saute pan over medium heat, add the garlic. After thirty seconds, add the pancetta and onion. Saute for 5-6 minutes, until the onion is slightly golden.
Add the arugula, and saute a very short time, just until it starts to wilt.
Bring 4-5 quarts of cold water to a heavy boil. Add a couple tablespoons of salt. Add the pasta, stirring it well to get it separated and mixed. Cook to al dente. Reserve two tablespoons of pasta liquid. Drain but leave slightly wet.
Add the pasta to the saute pan and stir. If too dry add the reserved liquid. Add one-quarter cup of pecorino and stir again.
Serve in heated bowls, with more pecorino on the side.