No pasta repertoire is complete without the ubiquitous, and delightful, four-cheese approach. Here is ours, using linguine.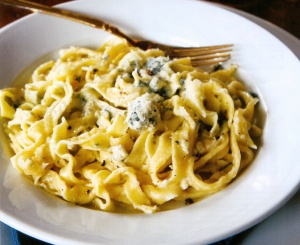 for the sauce:
one

tablespoon olive oil
one tablespoon butter
three ounces of Fontina, diced very fine
three ounces of Gorgonzola, crumbled
three ounces of mozzarella, shredded
three tablespoons fresh parsley, chopped
salt and pepper
one quarter cup freshly grated Parmesan
for the pasta:
In a sauté pan over low to medium heat, add the olive oil and butter. When the butter melts add the three cheeses. Heat until the cheese is melted into a sauce. Add a teaspoon of salt and some freshly ground pepper. Add two tablespoons of parsley. Taste for salt. Set aside.
Bring 4-5 quarts of water of a raging boil. Add a couple teaspoons salt. Put in the pasta, stirring well to get it mixed around in the water. Cook the pasta to al dente. Reserve one cup of the liquid. Drain.
Put the sauté pan back on medium heat; add the pasta; stir. Add reserved cooking liquid to make just moist enough to coat. Here we cover the pasta and sauce, turn the heat to high, and steam for one minute.
Serve, adding the parmesan to each serving plush another dash of parsley.