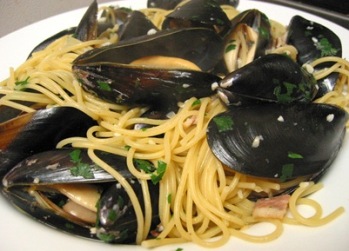 This beautiful dish is obviously a close compatriot of the classic spaghetti ala vongole. For those of us who believe that dish is the closest one gets to a culinary heaven, this is almost its equal, and provides a lovely variety.
for the sauce:
two pounds mussels, scrubbed

six

tablespoons olive oil
two tablespoons butter
two tablespoons (or a touch more) chopped garlic (peeled and chopped fine)
a couple of pinches of red pepper flakes (1/2 tsp or so)
one cup chopped herbs: basil, oregano, parsley
salt
one-half cup dry white wine
half cup chopped parsley for garnish
for the pasta:
one pound of linguine preferred, spaghetti works
Wash and de-beard the mussels.: Throw away any that are open at this stage (just get rid of them,).
Use a saute pan that is large enough to hold the sauce and the linguine when finished. Put in the olive oil, butter and garlic. Medium heat. When the garlic starts to sizzle, add the other herbs and the red pepper flakes.
Add the mussels (carefully). Add salt. Add the wine. Stir gently. Smell. When you no longer smell alcohol odor emanating from the pan (10-15 seconds), cover. The mussels will steam open.
After a few minutes, start the checking process. Look under the cover and see how the mussels are doing; hopefully opening. Stir very gently. When all have opened, remove the pan from the heat. (be reasonable: sometimes there will be some that do not open, ever. Don't wait too long. Just stop and throw them away).
Bring 4-5 quarts of water of a raging boil. Add a couple teaspoons salt. Put in the pasta, stirring well to get it mixed around in the water. Cook the pasta just short of al dente. One can say a minute before al dente, but you have to get your own feel for this; drain well.
Put your pan back on medium heat; add the pasta; stir gently! Cook until the fluid reduces a little and the pan is steaming.. Remember the broth is a special treat).
Serve immediately, adding some parsley as garnish, and with some crusty bread to dip in the broth.