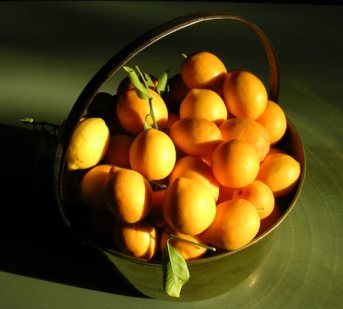 Frequently we are looking for a simple, classic first course (primo) but not too heavy. A swordfish presentation, for example, could follow. Here is a flavorful fettuccine presentation that we frequently use.
for the sauce:
eight tablespoons (one-quarter pound) butter
three tablespoons lemon juice
one tablespoon lemon zest
one cup cream combo -- three-quarters heavy cream; one quarter milk
one half cup freshly grated parmesan (or to taste).
salt and pepper
for the pasta:
Grate the peel of the lemon for zest, with your handy lemon zester, and then squeeze the juice of the lemon into a cup and hold.
Melt six tablespoons of butter over medium heat in a sauté pan.
Add the lemon juice, the zest and the cream. Add a half teaspoon of salt and some freshly ground pepper. Sauté for about a minute over medium high heat, stirring all the time, to reduce the sauce slightly. Set aside.
Get five quarts of water up to a raging boil. Add two tablespoons of salt. Add the fettuccine. Cook until almost al dente. Then drain well.
Add the fettuccine to the heated sauce. Add two tablespoons of butter. Stir thoroughly so that every strand of the pasta is well coated. Add the parmesan and stir some more. Taste for salt and pepper.
We then cover the pan, and heat over a medium high heat, for about a minute. This steaming action gets the fettuccine steaming hot, which is a huge plus.
Serve in heated bowls immediately. Take a few sprigs of fresh parsley and add for decoration.