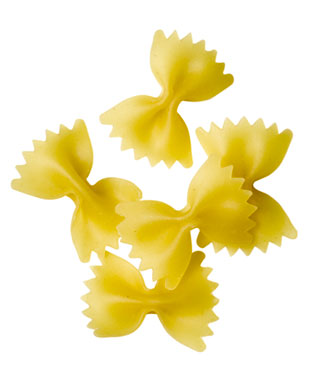 This is a wonderful creamy recipe adapted from one developed by Giada de Laurentis (see library), using the popular bow ties, the farfalle, native to the Lombard region. The recipe was sponsored by the Barilla pasta company, who make an exceptional farfalle.

for the sauce:

for the pasta:

Put the butter in a saute pan over medium heat. Add the flour and whisk it continuously until all lumps are gone -- several minutes. Add the milk gradually, steadily whisking. When all is whisked together and smooth, continue on a simmer. Keep whisking. Two minutes. Add the crumbled gorgonzola, and remove from heat. Stir until the cheese is melted and the sauce is smooth.

In a large pan add the oil over medium heat, Add the garlic. Add the mushrooms and saute until they are soft and somewhat golden. Stir in the defrosted peas. (if using fresh peas, cook them in a cup of boiling water until they are tender; then add them here). Add a teaspoon of salt and a couple of twists of the freshly ground pepper.

Meanwhile bring 4-5 quarts of water to a boil. Add two tablespoons of salt. Drop in the pasta and stir. Continue cooking until al dente (or just a touch short of al dente). Drain, reserving a cup of the pasta liquid.

Add the pasta to the mushroom mixture, add the gorgonzola sauce to the mixture and toss and stir. If too thick add some water from the reserved liquid to get a consistency that coats the farfalle.

Taste for salt and pepper and serve with the parsley as garnish.