We were delighted to discover a new, for us, pasta shape and preparation: caramelle. The name is also used for a type of candy preparation, but the similarity is intentional.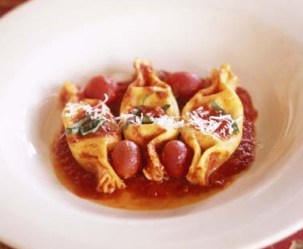 These small, filled pastas, are shaped into tubes or cylinders, almost like mini-cannelloni, and then the ends are twisted. The resulting shape can be compared to (pardon our French): bon-bons., Sometimes they are called (pardon our English): sweeties. These are generally a holiday, or festive, or Sunday brunch preparation, mainly in Parma and Piacenza.

One prepares the pasta, like cannelloni. Fill and roll the shapes. Cook them in boiling water. Serve with a sauce, generally tomato. The illustration above is a presentation from the well-known restaurant Il Grano, in Los Angeles.




We have a wonderful, flavorful filling recipe here, but also give you a variation for the filling.

for the filling:
two cloves garlic, peeled and chopped fine
two tablespoons olive oil
one ounce prosciutto, chopped fine
one-half pound fresh mozzarella, cut into quarter inch cubes
one-half cup ricotta
one-eighth cup chopped basil
salt and freshly ground pepper
for the tomato sauce:
one medium yellow onion, peeled and cut into quarters
four tablespoons of butter
one 28-ounce can of imported peeled Italian tomatoes, chopped into small pieces
salt and freshly ground pepper
(or use some of your already-prepared tomato sauce -- see tomato sauce)
and also:
one quarter cup freshly grated parmesan
for the pasta:
sheets of fresh egg pasta, home-made or purchased - enough to provide sixteen 4" x 5" squares
For the filling: Heat the olive oil in a saute pan over medium heat. Add the onion and sixty seconds later add the prosciutto. Cook until prosciutto loses its raw look. In a bowl, combine the garlic/prosciutto with the dices of mozzarella, the ricotta and the chopped basil. Combine well. Add salt and pepper to taste. Set aside.
For the sauce: melt the butter in a saute pan over medium heat. Add the chopped tomatoes and stir. Add the quartered onion. Add two teaspoons of salt and some freshly ground pepper. Simmer, stirring regularly with a wooden spoon, constantly pressing the tomatoes to pulverize them, for about thirty minutes. The tomatoes should have melded into a fairly thick sauce.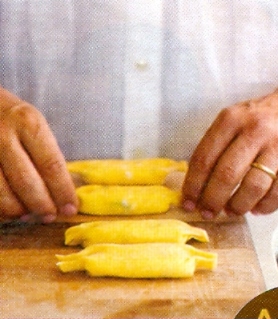 Make the caramelle: Put one tablespoons of the filling in each square 4" x 5" wrapper of pasta. The pasta should be fairly moist; definitely not dry. Moisten the edges of the pasta. Roll up. Gently seal the edges of the pasta making the cylinder. Gently squeeze and twist the ends to form a bon-bon type shape. (see picture). Place the filled and shaped caramelle on a sheet of parchment.
We first came across this wonderful new pasta shape from an article in The Wine Spectator, which always seems to have excellent and imaginative food presentations. The photo above is from their article in the October issue.
Bring four quarts of water to a boil. Add a tablespoon of salt. Carefully place the caramelle in the boiling water. Cook for about four to five minutes. Gently remove the caramelle with a slotted spoon and put them in the heated serving dishes. Top with the heated tomato sauce and sprinkle on the parmesan;.
Serves four for a main course (four each) or eight appetizers -- a perfect presentation.
Variation: Jamie Oliver makes a filling from nine ounces of ricotta, a tablespoon or two of chopped basil, a half-cup of black olives, pitted and chopped, and a dash of nutmeg, and a tablespoon of grated parmesan. These ingredients are all combined in a bowl, seasoned with salt and pepper to taste, and a teaspoon of olive oil to aid the mixing.
I