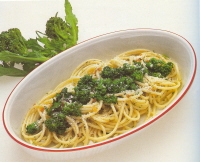 This presentation is a variation of the famous orecchiette and broccoli dish from Puglia. This is for those of you who, like us, delight in the slightly larger and more chewy bucatini.
>>for a similar pasta combination, see orecchiette con rapa.
for the sauce:
four garlic cloves, peeled and minced
six anchovy filets (can be optional)
one-half cup olive oil
two pounds broccoli
pinch of red pepper flakes
salt and pepper
two tablespoons more olive oil
for the pasta:
Wash the broccoli. Cut off the florets and set aside. Take the stems and peel them, from the bottom and the outside, so only the tender interior parts of the stems remain. Wash all the broccoli parts again.
Get five quarts of water to a raging boil. Add two tablespoons of salt. Add the broccoli stems. Boil for three minutes. Add the florets. Boil for another two minutes. They should be just tender. Take the broccoli pieces out of the water with a slotted spoon and set the broccoli aside, saving the liquid. Chop the stems into quarter inch dices; break up the florets.
Put the olive oil into a saute pan, add the garlic, over medium heat until it just starts to sizzle. Add the pinch of red pepper flakes, a quarter teaspoon of salt, and several grinds of the pepper mill, Then add the anchovy fillets (don't let the pan get too hot). Cook and stir until the anchovies are dissolved.
Get those five quarts of water back up to a raging boil. Add two tablespoons of salt. Add the bucatini. Cook until al dente. Then drain well.
Add the pasta to the oil. Add the broccoli. Add the remaining two tablespoons of olive oil. Mix very well. Taste and adjust for salt and pepper. Serve.