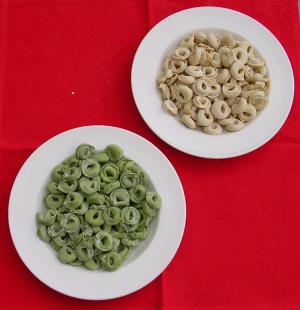 The beauty of form and the delight of taste make tortellini, and also cappelletti, a special joy and a culinary treasure.
Many of us are lucky enough to be able to buy fresh home-made egg pasta from a local source (we are not talking supermarket here). For those of us who are that fortunate, we, therefore, have available an almost instant dinner that ranks high among the stars in taste delight.
Our tortellini is usually cheese filled (with four cheeses). Therefore we add pancetta to this sauce. For a meat-filled tortellini, add or omit the pancetta as you wish.
This is a recipe for two people.
for the sauce:
four

tablespoons sweet butter
one tablespoon chopped shallots
one tablespoon chopped pancetta

one-half c

up heavy, whipping cream
one-quarter cup (or more) freshly grated Parmesan cheese (to one's taste)
salt and freshly ground pepper.
maybe a dash of nutmeg
for the pasta:
44-50 or so freshly made tortellini (give or take either way)
Heat 3-4 quarts of cold water to a raging boil, add a tablespoon or so of salt, drop in the tortellini, and stir.
Meanwhile, in a saute pan over medium heat, add the butter and let it melt. Add the shallots and pancetta and cook for a few minutes, until the shallots are soft, and the pancetta is cooked through (not brown). Add a half teaspoon of salt, some twists of the pepper mill, a dash of nutmeg if you choose, and then add the cream.
Cook until the cream is reduced -- maybe in half, but mostly judge by how much sauce you want to coat the tortellini. Then take off the heat. (This whole operation requires a minute or two to chop and about four to five minutes to cook!)
Meanwhile, test the doneness of the tortellini by taking one out, clipping off an edge, and tasting. When the texture is truly al dente, drain.
Return the sauce in the sauté pan to medium heat. Add the pasta very gently. Toss, also gently. Add the cheese, tossing thoroughly as you are adding. We then cover the pan and cook over high heat for one minute, to get the pasta really hot and steaming.
As always, serve immediately on warmed plates or bowls (a sprig of parsley adds color).
Presto!!