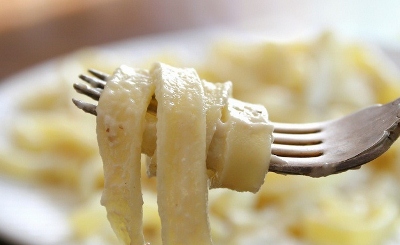 This is one of the simplest, most satisfying and comforting pasta dishes one will find. It is the perfect sauce for fresh, home-made egg pasta. (see how to make fresh egg pasta). It takes but a few minutes to make, and it provides tasting delight ten-fold.

Alfredo, the owner of a restaurant in Rome, made this dish famous. The sauce is also known as "alla panna", especially when used with tortellini.

A recipe this famous has to have a history. See The Original Fettuccine Alfredo for the reputed original version.

for the sauce:
four tablespoons sweet butter
one cup heavy, whipping cream
one-half to one cup freshly grated Parmesan cheese (to one's taste)
a pinch of nutmeg
salt and freshly ground pepper.
for the pasta:
one pound freshly-made egg pasta, fettuccine or tagliatelle.
Put the butter and cream into a sauté pan; turn the heat to medium and boil gently. Stir constantly. Boil until the cream reduces somewhat, almost half. Add salt and pepper and the touch of nutmeg. Set aside.
Heat 4-5 quarts of cold water to a raging boil, add a tablespoon or so of salt, drop in the pasta, and stir regularly until it is al dente. Fresh pasta cooks quickly. Drain, shaking out the moisture.
Return the sauté pan to medium heat. Add the pasta. Toss. Then slowly add the cheese, tossing thoroughly as you are adding. As always, serve immediately on warmed plates or bowls (a sprig of parsley adds color). Enjoy!
A note on pasta fresca: there are four basic sizes, by width, of flat pasta fresca. Fettuccine and tagliatelle are basically interchangeable, although true tagliatelle, which you would get in Bologna, is slightly wider. Tagliolini is thinner, less than half the width of fettuccine. If one is using a pasta machine, run the pasta through the wider cutter for fettuccine and the smaller for tagliolini. Pappardelle is the widest of the fresh pastas, around three-quarters inches wide. It must be cut by hand.