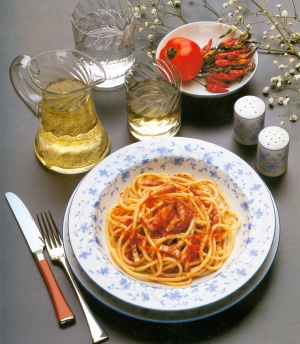 Here is an authentic all'amatriciana recipe, (granted there are still quite a variety of authentic) using guanciale as the meat rather than pancetta. Guanciale is cured, un-smoked hog jowl. This is what you will find in the dish as served in Rome and environs. Guanciale, which means pillow in Italian (for its shape), has a rich, definite pork flavor and a smooth texture, and really gives the dish an extraordinary flavor.
for the sauce:
three tablespoons olive oil
three cloves of garlic, peeled and finely chopped
one medium onion, finely chopped
six ounces guanciale, cut in one-inch slivers one-quarter inch thick.
one-half teaspoon red pepper flakes (or more, to taste)
2 cups canned, imported San Marzano Italian plum tomatoes, drained and cut up
salt and lots of freshly ground pepper
one-half cup freshly grated pecorino Romano
for the pasta:
one pound bucatini (in Amatrice they also use thick spaghetti)
Heat one tablespoon of the oil in a saucepan over medium heat. Add the guanciale and cook slowly until it is lightly browned. Use a slotted spoon and transfer to a paper towel. Drain all but one tablespoon of the fat.

Add two tablespoons of oil to the pan, over medium heat.Addd the garlic and cook until it starts to sizzle. Add the onion and cook for four minutes. Add the red pepper flakes, salt and the freshly ground pepper, and stir.
Add the chopped tomatoes, simmer (uncovered) for about twenty minutes, stirring frequently with a wooden spoon. Break up the tomato with the wooden spoon as you stir so the sauce is smooth, not lumpy. Taste and correct for salt and pepper. Add the cooked guanciale and mix. Set aside.
Meanwhile, bring a large pot (4 -5 quarts) of cold water to a heavy boil, add a couple of tablespoons of salt, drop in the pasta, stir it around, and cook to al dente. (tasting regularly to check for doneness).
One of the tests as you mix the sauce and pasta, is to make sure the sauce is moist enough to coat the pasta beautifully. The sauce might be a little thick. Therefore, before draining the pasta, take one cup of the pasta water out and reserve it.
Drain the pasta well; add it to the sauce; raise the heat; and stir. At this point if the pasta needs a little more liquid, add it from your reserved pasta water. Continue to stir.
Add the cheese; stir some more. Cover the pan, turn up the heat to high, and steam for one minute. The pasta will be steaming hot, ready to serve. Serve immediately.