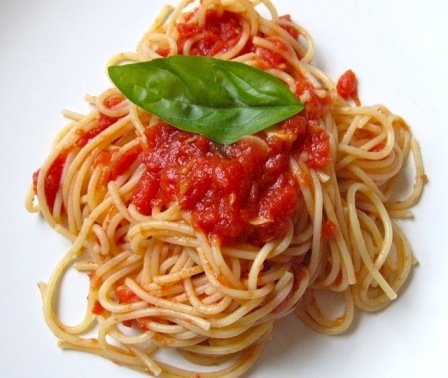 Would you like to make classic, wonderful but simple pasta recipes? Spaghetti, bucatini, penne, trofie, farfalle and more? Click pasta. You will find a wide variety of easy but excellent recipes, many taking only a few minutes. Without exotic ingredients.
Here is a very special and useful feature: search the entire site by entering a word or phrase in the box below. If you have an ingredient you would like -- say cauliflower -- you will find a recipe that uses it. Plus any other detailed piece of information you might want to find.
Please take a look at these two added attractions:
www.thisweekspasta.blogspot.com
We are just getting this blog underway. As we get going, it will be a regular weekly feature: one of our favorite pastas for your delight -- every week. Check it out.

Please take a look at our companion blog:

www.eatingitalian.blogspot.com
, . . . where we provide comments, observations, suggestions, findings and recipes -- all on the wonderful varieties of Italian cuisine. We post to this blog periodically, so give it a look whenever you get on the site. And look at some of the back posts -- like "negroni" for example.
Marcella . . .
The legendary and incomparable Marcella Hazan passed away at age 89 at her home in Longboat Key on September 29. I published her first cook book, "The Classic Italian Cook Book, " and we will be paying tribute to her genius in both of these blogs in the weeks ahead. Keep in touch.
making your own pasta as therapy:
This comes in as "pasta as therapy". We recently finished some tough chemo and as a therapy during the sessions we found making pasta a wonderful way to get back to basics. We especially loved making garganelli (see garganelli). The results are herewith. We used them with one of our tomato sauces (Benedetta) which we made last fall -- and froze, and it was all wonderful.
The tool is handmade from terri mirri, see where to purchase.
risotto time
We have been commended for having one of the best risotto presentations on the internet. Thanks! If you haven't visited our risotto section, please do so! And we keep adding more gems to this extraordinary collection.
There are many of us who would vote risotto as the greatest comfort food in western civilization. And by clicking on "Risotto" we believe you will find superb instructions on preparing it (and great tips, also, for the experts), and a wide variety of recipes.
Tip: we have two versions of the classic risotto Milanese style. try them both and decide!
Back to classicpasta.com:
Would you like to be slightly more adventurous? Make your own tortellini, cannelloni, lasagne? Make your own egg pasta? The how-to sections allow you to do just that
Risotto? Complete and de-mystified. (click risotto) And polenta (a perfect winter dish) just click polenta.
Just want to add to your knowledge of all things in Italian cuisine? Click on ingredients: a thorough survey of Italian cheeses, and your Italian pantry of ingredients.
A guide to take the confusion out of Italian wine? The best of Italian restaurants around the world.? Library: the best Italian cook books for further exploration? click Library and explore.
This is classicpasta.com. Welcome!
>>Vegetables? go to Extra Pantry and find three fabulous, simple, zucchini recipes. These recipes will serve you well throughout the months ahead.
Here is a guide to what you will find at classicpasta.com.
Click, explore and enjoy!
Pasta is the mainstay. Under the main "pasta" heading you will find what we call "the basic repertoire". These are the major pasta recipes of Italian cuisine. We set these aside because we feel that mastering these pasta recipes alone will provide you with the infinite joys and pleasures of this cuisine. Try them all! Many pasta dishes are what we refer to as our comfort food: the pasta that we know will be totally satisfying and comforting when it is placed, steaming, in front of us. Here they all are.
>>SPECIAL TASTE TREAT ALERT: we have expanded the ravioli section with a variety of fillings and sauces for these jewels of Italian culinary art! Check ravioli. Not that difficult to do, and worth the effort!
Many more pasta recipes will be found under "additional recipes". We have categorized these recipes according to the various pasta shapes and style: spaghetti, penne, special shapes, tagliatelle, fettuccine, etc.
Tortellini, ravioli, gnocchi, lasagne, cannelloni and baked pastas are each covered in detail. In each of these sections you will find instructions on how to make and prepare, and fabulous recipes that get you to putting the dish on the table.
Fresh egg pasta: make your own. There is a full section, in detail and illustrated, on how to make fresh egg pasta. Plus a dictionary of the names or nomenclature of pasta shapes.
Sauces: here is a selection of key sauces and how to prepare them: pesto, ragu, gorgonzola, and several wonderful approaches to tomato sauce, both for fresh or canned tomatoes.
Risotto? In addition to pasta, there is a major section on risotto: how to make it (thoroughly and simply described), plus a wonderful array of risotto recipes. Critics have told us that this risotto section is one of the cleanest, simplest, and yet most thorough and useful presentations on risotto that they have seen.
Polenta is the pasta of northwest Italy. Learn, simply, how to make it, and how to accompany it. Here is a favorite polenta recipe: Roy's polenta with mushrooms
Ingredients: what do you need to have on hand; what ingredients work best? What about that wonderful array of Italian cheeses? Here is that information..
We believe you will find that the linking that we have incorporated in this site, and the easy movement from page to page, will make your efforts easier and more enjoyable.
Wine, restaurants, library -- there are a number of additional sections that are here because we like the idea of them
Italian wine: Italian wine can be complicated and puzzling. But knowledge about its intricacies can yield wonderful results. The wine section is simply a guide and overview, no selection of individual favorites, but it does include suggestions and links for further understanding.
Italian restaurants around the world? We list here most of the best in key locations. And we will also present here, as a continuing feature: visits to major Italian restaurants, their chefs and their pasta presentations. Makes your trip to classicpasta.com newly rewarding and informative on every visit.
The Library lists books that we love -- books written by stars of the Italian food world, providing information and insights in great depth. Check them out. There is so much to learn about pasta, and gaining that knowledge is a source of constant pleasure.
E-mail us. We want to hear from you. We do not do a rating system on the recipes; we assume they are all excellent depending on your mood and taste. But we look forward to your comments, criticisms, advice and comments. And any special pasta recipes you think would be worthy for inclusion.
>>>Take a look at Extra Pantry (below) for a couple of terrific zucchini recipes and the greatest veal chop ever!
Extra pantry: you will just have to click on it to find out what extra specials we have in store, no pun intended, for you.
Finally, we do like to talk. Our Editor's Page will be just that: our talk, our comments, our observations and our views on any aspects of this world of pasta. We start with our talking about what our beliefs are, and what we think are the important fundamentals in being a wonderful pasta chef. Plus what we set up as our mission and our guiding light in creating classicpasta.com.
Visit, try, click all over the site, and enjoy.